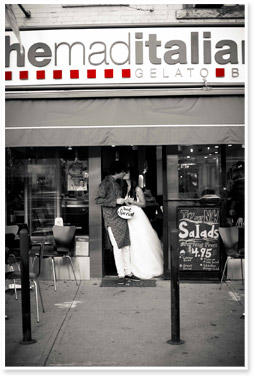 Mad Italian Customers:
"Amazing food and great service!!"

"Food was fantastic, service was great. Those pizza cones were huge!"

"Great service and knowledgeable staff."

"Try the spicy chocolate gelato"

"Excellent food and friendly service."

"The service I received the day I went to eat at The Mad Italian was excellent."

"The staff was super nice. Pizza cones were delicious."

"Great and clean way to eat pizza. Will definitely go back again."

"The staff was polite, helpful and friendly, the food was excellent and unique, we thoroughly enjoyed out experience and would recommend to others."

"Great service from josh and great food - we'll be back"

"Excellent food, wonderful hospitality, thank you!"

"I was very impressed by the customer service. The two young girls at the cash were very helpful and pleasant."

"Thanks for the great food!"

"Great service, loved the food!!"

"An Excellent Find in Leaside! ...glad you did the Groupon!"

"Great service, very friendly!"

"Very tasty and the server was extremely friendly! Great deal"

"The food was delicious - soup, salad and Zazzu pizza cones. My husband and I were really impressed. The service was very good; the new owner is very pleasant and helpful. We wish that we had bought more Groupons for the Mad Italian but we will go back again nonetheless."

"Good value, nice food."

"Fun and delicious, Zazzu cones were great i'd love to try a whole wheat version + a few more healthy topping options and I love the fresh lightly dressed salad :). We'll be back for sure."

"It's a gimmicky pizza in a cone. But a pretty tasty gimmick. For that I say it's worth a shot if you're in the area."

"The angel tasted like cotton candy. It was delish and the watermelon was bursting with melon flavor."

"Wonderfully made gelato. Tried chocolate coconut and tiramisu . Both had bold flavor and lovely texture. I will return to this shoppe to try more of their flavor options. Also note they offer Italian dinner entrees and assorted sweets."

"The place was packed. Great gelato. My only complaint is that I'd prefer a liitle more imagination in terms of flavors. I'm pretty sure thier low rating here must be due to vote-sabotage from competitors."

"Great tiramisu and ice cream Pleasant helpful staff."

"Decor isn't anything fancy but the pasta sauces are homemade and delish. I enjoyed a wonderful eggplant parm and a spot on latte followed by yummy gelato all served by a very knowledgeable and friendly waiter."